Login
This site uses your AEC Daily account to log in. Enter your AEC Daily username and password, or click here to create an account.
Required fields are indicated with a
Who We Are
We are a recognized leader in the advancement of insulated metal panel technology, serving the Architectural, Commercial, Industrial and Cold Storage industries with energy efficient and cost effective insulated metal wall and roof panels. For the past forty years, we have not only helped shape our industry; we have set the standard for product design innovations and technology improvements. In order to maintain this focus on quality, we continue to pioneer new research and expand our process capabilities.
Learn More
Environmental Product Declaration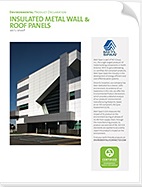 Cut through the green noise and learn more about Metl-Span's impact on the environment through all phases of our products' lifecycle.
Learn More